World Affairs Council of Charlotte CEO Series (October 8th, 2015) 
Michael Tarwater
Chief Executive Officer, Carolinas HealthCare Systems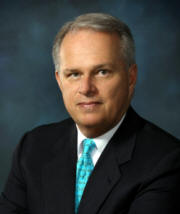 Join the World Affairs Council of Charlotte on October 8th as we host Michael Tarwater, CEO of Carolinas HealthCare System who will discuss the role of Carolinas HealthCare in the global health arena and how its providing world-class healthcare service to our region.
Michael Tarwater's vision allowed Carolinas HealthCare System to develop an appropriate level of presence in promoting quality healthcare for people around the world. In collaboration with the Heineman Foundation of Charlotte, the Carolinas HealthCare System International Medical Outreach Program (IMO) is delivering medical assistance globally by establishing sustainable healthcare in underserved areas such as Central America, South America, the Caribbean, Africa, and Europe. Under his leadership, Carolinas HealthCare System has become a magnet for top ranked international talent from around the globe. The list includes physicians and researchers from Australia, China, India, Pakistan, Germany, England, and many others.
Date: Thursday, October 8th, 2015
Location: Westin Charlotte (601 S. College St.) Directions
Check-In and VIP Reception: 11:30 a.m. – 12:15 p.m.
Lunch, Presentation & Q&A: 12:15 – 1:30 p.m.
Cost:
$40 (WACC student/educator/TMS members)
You must be an individual WACC educator/student/TMS member to qualify for the $40 rate
$55 (WACC members)
$70 (non-Members)
Become a member of the WACC to attend this program at the discounted member rate

Click here to register online via Constant Contact
Call 704-687-7762 for credit card payments (non-PayPal transactions) over the phone.
If you prefer sending a check, please make it payable to "World Affairs Council of Charlotte" and mail it to the following address:
World Affairs Council of Charlotte
UNC Charlotte – CHHS 227
9201 University City Blvd.
Charlotte, NC 28223
All reservation cancellations must be completed at least 3 business days prior to an event in order to receive a full refund. If you have dietary restrictions (i.e. vegan, vegetarian, food allergies etc.), please let us know in advance so that we can make the appropriate accommodations.

Biography
For more than 30 years, Michael Tarwater has been a leader in the development of Carolinas HealthCare System, the largest, vertically integrated healthcare system in North and South Carolina. Carolinas HealthCare System is comprised of 60,000+ employees located in more than 900 care locations throughout the Carolinas and Georgia, with a forecasted 2013 net revenue of $7.8 billion. Prior to joining Carolinas HealthCare System in 1981, Tarwater served as the assistant administrator at the University of Alabama Hospitals. He holds a Bachelor of Science degree in business administration from the University of West Florida and a Master of Science degree in hospital and health administration from the University of Alabama at Birmingham.
Tarwater is a life member and past chairman of the Board of Trustees of the North Carolina Hospital Association. He is a member of the American Hospital Association's (AHA) Board of Trustees, and serves as Chairman of the AHA Regional Policy Board 3. He serves on the Board of Trustees of Queens University of Charlotte and on numerous other community oriented boards, and he is Vice Chairman of the Charlotte Chamber of Commerce.