Become an Individual Member of the World Affairs Council of Charlotte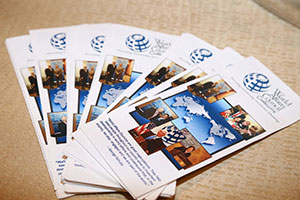 The World Affairs Council of Charlotte (WACC) is a 501(c)(3) non-profit, non-partisan organization founded in 1983 that is supported by private funding from individual and corporate member dues and contributions. Memberships with the Council are also tax-deductible to the full extent allowed by the IRS.
As a regional center for education and discussion of world affairs, the Council seeks to provide leadership for global thinking through our global-issue driven programming and international education initiatives. We believe that a broad perspective is necessary for effective competition in the global economy and for responsible citizenship in an increasingly interdependent world.
Basic Membership Benefits
Member discounts to all WACC programs and events
Free admission to selected WACC programs and events
Recognition of membership contribution on the WACC website (*Diplomat level and higher)
Access to book signings by world renowned experts on global issues
Free subscription to WACC mailings and e-announcements
Special discounts for The Economist, Foreign Policy and other leading publications
Customized international travel opportunities specifically designed for members

Additional Membership Benefits
$ 175 WORLD SPONSOR – all of the above basic member benefits for you and one additional family member plus:
Four complimentary program passes for use at any WACC Speaker Series, Ambassadors Circle or CEO Series programs
Preferred seating at all programs
Special opportunities to meet with distinguished guests
$ 300 GLOBAL PATRON – all of the above basic member benefits for you and one additional family member plus:
Six complimentary program passes for use at any WACC Speaker Series, Ambassadors Circle or CEO Series programs
Invitation to member appreciation events
Preferred seating at all programs
Special opportunities to meet with distinguished guests
$ 500 DIPLOMAT – all of the above basic member benefits for you and one additional family member plus:
Eight complimentary program passes for use at any WACC Speaker Series, Ambassadors Circle or CEO Series programs
Two complimentary WorldQuest admissions
Access to all VIP receptions
Invitation to member appreciation events
Preferred seating at all programs
Special opportunities to meet with distinguished guests
Advanced notice of select WACC programs and events
Complimentary copy of a book written by a WACC speaker 
$ 1,000 AMBASSADORS CIRCLE – all of the above basic member benefits for you and one additional family member plus:
Ten complimentary program passes for use at any WACC Speaker Series, Ambassadors Circle or CEO Series programs
Two free tickets to the World Citizen Award Dinner (*includes access to VIP reception with distinguished guests)
One complimentary table at WorldQuest (seats 8) – annual global knowledge competition
Access to all VIP receptions
Two complimentary tickets for use at any WACC Private Dinner with distinguished guests at no additional cost
Invitation to member appreciation events
Preferred seating at all programs
Advanced notice of select WACC programs and events
Special opportunities to meet with distinguished guests
Recognition on WACC website, printed programs and e-announcements
Complimentary copy of a book written by a WACC speaker