Corporate Membership and Support: Will You Invest in the World Affairs Council of Charlotte?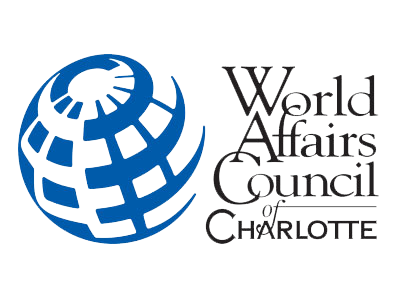 Why become a Corporate Member of the World Affairs Council of Charlotte?
Learn about international affairs from foreign government /state officials, renowned authors, and world leaders.
Build professional networks through Council events
Support International education in the Charlotte community.
Increase corporate publicity through program and education sponsorships.
Reach out to sophisticated and high level individuals in the Charlotte community.
Build, maintain and strengthen client relationships.
For more information regarding Corporate Membership with the World Affairs Council of Charlotte, please contact 
Lauren Osga
or call
(704) 687-7758
.
| | |
| --- | --- |
| | Carolinas HealthCare System is one of the finest providers of healthcare in the country. However, we are much more than just a collection of physician practices, hospitals and other facilities. We are an interlocking set of partnerships operating together for the good of the patients and communities we serve. We are a vital part of each community in which we operate. We rely upon our employees to care for patients and to contribute to the well-being of each community. We depend upon our doctors, who trust us to provide the best care possible to the patients they send us. And we join with local governments to strengthen community health systems. Partnerships with hospitals and physicians throughout the Carolinas ensure that quality care is always close by; and, when specialized care is needed, patients can find it at Carolinas HealthCare System. |
| | Wells Fargo & Company is a diversified financial services company with $1.2 trillion in assets, providing banking, insurance, investments, mortgage, and consumer and commercial finance through more than 10,000 stores and 12,000 ATMs and the Internet (wellsfargo.com and wachovia.com) across North America and internationally. |
| | UNC Charlotte is North Carolina's urban research institution. With an enrollment ranking it fourth among the 17 schools in the UNC system, it is the largest public university in the greater Charlotte metropolitan region. A doctoral institution, UNC Charlotte serves the region through applied research, knowledge transfer and engaged community service. For fall 2009, approximately 24,700 students, including 5,300 graduate students, were enrolled in one of the University's comprehensive doctoral, master's or bachelor's programs. |
| | Bank of America is one of the world's largest financial institutions, serving individuals, small- and middle-market businesses and large corporations with a full range of banking, investing, asset management and other financial and risk management products and services. The company serves approximately 56 million U.S. consumer and small business relationships. It is among the world's leading wealth management companies and is a global leader in corporate and investment banking and trading. |
Headquartered in Charlotte, NC, DHG ranks among the top 20 public accounting firms in the nation. With more than 2,000 professionals in 13 states, we combine deep experience with a strong commitment to personal service. We are passionate about helping our clients succeed—and we do so through a resourceful approach to solving problems, providing solutions and helping our clients achieve their goals.

Dedicated client focus and relationships have been and always will be our touchstone. Here at DHG, you'll receive personalized service provided by a team of professionals who are eager to share their knowledge and experience with you. We draw on our extensive resources to combine comprehensive assurance, tax and advisory services.

Since our founding, a commitment to our people has been at the heart of everything we do. We employ and retain best-in-class professionals with the goal of cultivating meaningful careers to best serve our clients. Our drive to embrace innovation, nurture relationships and build leaders for tomorrow is fundamental to the core values and practices that set DHG apart. When you work with us, you get more than a bundle of services. You get a relationship with a resourceful team fully dedicated to your success.

Chase is the U.S. consumer and commercial banking business of JPMorgan Chase & Co. (NYSE: JPM), a leading global financial services firm with assets of $2.3 trillion and operations in more than 60 countries. Chase serves more than 50 million consumers and small businesses through more than 5,500 bank branches, 17,500 ATMs, credit cards, mortgage offices, and online and mobile banking as well as through relationships with auto dealerships.

A not-for-profit organization owned and operated by business leaders who care about our community, the Charlotte Chamber's mission is : The Charlotte Chamber creates competitive advantage by growing the economy, advocating pro-business public policies and delivering innovative programs and services.

A nonprofit, public/private economic development organization, the Charlotte Regional Partnership leverages regional resources to market the 16-county Charlotte region. The Partnership's business development activities position Charlotte USA for sustained, long-term growth, job creation and investment opportunities.

With 16 counties – 12 in North Carolina and four in South Carolina, Charlotte USA has a wealth of assets for the Charlotte Regional Partnership to market. The Partnership serves as a catalyst for government/business collaboration to market and promote Charlotte USA as a highly competitive, vibrant region with an increasingly attractive quality of life. In fact, our region is the case that proves the point that the whole is greater than the sum of its parts. Although each of the 16 counties has its own strength, each experiences greater economic success – and is more competitive – by working together than alone.
AREVA, world energy expert, offers its customers technological solutions for highly reliable nuclear power generation and electricity transmission and distribution. 71,000 employees are committed to continuous improvement on a daily basis, making sustainable development the focal point of the group's industrial strategy.
We are the leading transatlantic business organization in the Carolinas dedicated to helping its members build and manage their business by providing business contact and referrals, marketing opportunities and business intelligence. The BABCNC is part of a network of organizations in 21 major cities in the United States, the United Kingdom, and Canada, several of which have been in operation for over 20 years (over 70 years in New York).

BDO is the brand name for BDO USA, LLP, a U.S. professional services firm providing assurance, tax, financial advisory and consulting services to a wide range of publicly traded and privately held companies. For more than 100 years, BDO has provided quality service through the active involvement of experienced and committed professionals. The firm serves clients through over 60 offices and more than 450 independent alliance firm locations nationwide. As an independent Member Firm of BDO International Limited, BDO serves multi-national clients through a global network of 1,401 offices in 158 countries.

Established in 1978 and located in Charlotte, North Carolina, EDIFICE is one of the leading commercial contractors in the Southeast. This privately held business has a diverse portfolio in all major markets enabling its teams to excel in projects ranging from the intricacies of interior renovations to complex, multi-faceted structures.

Fifth Third Bancorp is a diversified financial services company headquartered in Cincinnati, Ohio. The Company has $110 billion in assets and operates 15 affiliates with 1,313 full-service Banking Centers, including 102 Bank Mart® locations open seven days a week inside select grocery stores and 2,449 ATMs in Ohio, Kentucky, Indiana, Michigan, Illinois, Florida, Tennessee, West Virginia, Pennsylvania, Missouri, Georgia and North Carolina. Fifth Third operates four main businesses: Commercial Banking, Branch Banking, Consumer Lending, and Investment Advisors. Fifth Third also has a 49% interest in Fifth Third Processing Solutions, LLC. Fifth Third is among the largest money managers in the Midwest and, as of March 31, 2011, had $274 billion in assets under care, of which it managed $26 billion for individuals, corporations and not-for-profit organizations.

Founded in 1984, GreerWalker LLP has developed into one of the leading Charlotte-based accounting and business advisory firms, with a total staff of over 90 associates including thirteen partners. Rated as one of the ten largest firms in the greater Charlotte region in the 2014 List of Accounting Firms published by the Charlotte Business Journal, the firm has been recognized for consecutive years as one of the nation's "Best of the Best" accounting firms by Inside Public Accounting. We focus primarily on the needs of privately held middle-market companies, their owners, and their executive management teams.

Haskell, one of the industry's leading design, engineering, and construction organizations, offers client-focused solutions in the industrial, commercial, government and civil infrastructure markets. Haskell provides planning, architectural, engineering, construction, systems integration and program management services with a 50 year history of delivering the right solution for every client.

K&L Gates LLP comprises nearly 2,000 lawyers who practice in 36 offices located on three continents: Anchorage, Austin, Beijing, Berlin, Boston, Charlotte, Chicago, Dallas, Dubai, Fort Worth, Frankfurt, Harrisburg, Hong Kong, London, Los Angeles, Miami, Moscow, Newark, New York, Orange County, Palo Alto, Paris, Pittsburgh, Portland, Raleigh, Research Triangle Park, San Diego, San Francisco, Seattle, Shanghai, Singapore, Spokane/Coeur d'Alene, Taipei, Tokyo, Warsaw, and Washington. K&L Gates represents capital markets participants and leading global corporations, growth and middle-market companies, and entrepreneurs in every major industry group as well as public sector entities, educational institutions and philanthropic organizations. Our practice is robustly a full market practice — at once regional, national and international in scope — and it is cutting edge, complex, and dynamic.

At McGuireWoods, we deliver quality work, personalized service and exceptional value. We use technology to provide efficient legal solutions and employ a diverse workforce to bring real-world and innovative perspectives to meet our clients' needs. With approximately 900 lawyers and 17 strategically located offices worldwide, McGuireWoods uses client-focused teams to serve public, private, government and nonprofit clients from many industries including automotive, energy resources, health care, technology and transportation.

Midrex Technologies, Inc. is an international process technology company, wholly owned by Kobe Steel, Ltd., that provides specialized solutions for steelmakers worldwide in the field of direct reduction ironmaking.

For more than four decades, Midrex has been the world technology leader for direct reduction technologies and continues provide innovative technologies and improvements for today's global steel industry. Midrex continues to lead the industry by offering the best direct reduction technology solutions to meet steelmakers' needs. Built on an elegant and simple process, MIDREX® is designed to meet current steelmaker needs while being flexible to adapt to tomorrow's markets.  Plants using the MIDREX® Process are the world's largest, most flexible and longest running direct reduction plants in the industry. Of the 67 MIDREX® Plants built and started-up since 1969, only 3 have ever been dismantled and taken completely out of service. In fact, 33 MIDREX® Plants have been operating more than 20 years and some are in their fourth decade of operation.

Parker Poe traces its roots back to 1884, when it was founded by Heriot Clarkson, later a Justice of the North Carolina Supreme Court. By 1990, the Firm (then known as Parker, Poe, Thompson, Bernstein, Gage & Preston) had grown to more than 65 lawyers, and had one of North Carolina's most sophisticated general corporate and business practices, as well as strong practices in the areas of litigation, the environment, tax law, real estate and lending.

In 1990, the firm merged with the 30-lawyer Raleigh firm of Adams, McCullough and Beard, which was founded in 1965 by Senator Terry Sanford and several other attorneys and which was recognized for its litigation, legislative and public finance practices. Today, Parker Poe has grown to more than 210 attorneys as we continue to meet the needs of our clients across the Carolinas, the United States and the world.

The PNC Financial Services Group, Inc. is one of the nation's largest diversified financial services organizations providing retail and business banking; residential mortgage banking; specialized services for corporations and government entities, including corporate banking, real estate finance and asset-based lending; wealth management and asset management.

Registered professional engineer and entrepreneur B.D. Rodgers was 39 years old when he used experience gained at a healthcare architecture and engineering firm to strike out on his own. With $5,000 borrowed on his life insurance policy, he started a construction company in Charlotte, NC. Now, more than 50 years later, Rodgers is one of the nation's most respected contractors, known not just for building, but for building enduring relationships.

Clients say we consistently bring superior value and quality to every project. They cite the foresight of leaders, our talented and experienced team, and our dedication to our communities as reasons to work with us. Our peers have honored us and our work with multiple awards, including recognition as ENR Southeast's 2013 General Contractor of the Year. At Rodgers, it's not about where we've been, but where we can help our clients go.

Founded in 1925, Shumaker, Loop & Kendrick, LLP is a full-service law firm with more than 250 lawyers and five offices in Toledo and Columbus, Ohio; Tampa and Sarasota, Florida; and Charlotte, North Carolina.  Shumaker is a premier provider of quality legal services.  Whether it's commitment to clients or work in the community, involvement lies at the core of all of Shumaker's initiatives.
Based in Charlotte, North Carolina,

SPX

FLOW is a global supplier of highly engineered solutions, process equipment and turn-key systems, along with the related aftermarket parts and services, into the food and beverage, power and energy and industrial end markets.

SPX

FLOW has approximately $2 billion in annual revenues with operations in over 30 countries and sales in over 150 countries around the world.
Sumter Packaging Corporation was founded in 1958 as Kankakee Container Company. In 1981, we expanded to our present headquarters in Sumter, South Carolina. Since that time, we have expanded to 4 locations serving the Carolinas, Georgia and Virginia with over 350,000 square feet of manufacturing and warehouse space. Sumter Packaging has been a family owned business for three generations and has been committed to continuous improvement for over 50 years. Sumter Packaging continues today to serve its customers through personal service and quality products with fast, dependable delivery.
 
Founded in 1897, Troutman Sanders LLP is an international law firm with more than 650 lawyers practicing in 16 offices located throughout the United States and Asia. The firm's clients range from large multinational corporations to individual entrepreneurs and reflect virtually every sector and industry. The firm's heritage of extensive experience, exceptional responsiveness and an unwavering commitment to service has resulted in strong, long-standing relationships with clients across the globe. In recognition of the firm's strong service culture, Troutman Sanders has been on the BTI Client Service A-Team for 12 consecutive years.
 
For over 35 years Woodforest National Bank has successfully stood among the strongest community banks in the nation, proudly offering unsurpassed quality customer service since 1980. Woodforest offers both consumer and business products and services. Woodforest is privately owned and our Employee Stock Ownership Plan is the largest shareholder. In the spirit of "true ownership" Woodforest employees strive to offer quality banking service and to understand the financial needs of every customer they serve.  Our employees live, work and "give back" throughout our many banking communities by supporting organizations and civic events with countless hours of volunteer time and financial support.

Today Woodforest has over 740 branch locations throughout Alabama, Florida, Georgia, Kentucky, Louisiana, Illinois, Indiana, Maryland, Mississippi, New York, North Carolina, Ohio, Pennsylvania, South Carolina, Texas, Virginia, and West Virginia.
Click edit button to change this text.