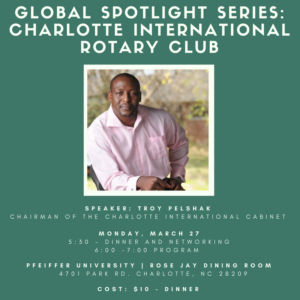 Join The Magellan Society (Young Professionals of the World Affairs Council of Charlotte) at the Charlotte International Rotary Club Meeting on Monday, March 27th.
Come and network with other internationally-minded young professionals and Charlotte International Rotary Club members while we hear from distinguished Charlotte YP, Troy Pelshak, Chairman of the Charlotte International Cabinet.
Date: Monday, March 27th
Location: Pfeiffer University, Charlotte Campus
Rose Jay Dining Room
4701 Park Road
Charlotte, NC 28209 – Directions
Time: Dinner and networking: 5:30 p.m.
Program begins: 6:00 p.m.
Cost: $10.00
*Dinner from the Cooking Pot African Kitchen included
Space is limited! Click here to RSVP for the panel discussion
Guests Are Welcome!
You don't have to be a member of WACC or of TMS to join us for this event.