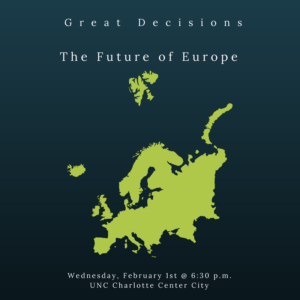 The UK's vote last summer to withdraw from the European Union sent shockwaves of uncertainty throughout the world. As the continent continues to face an ongoing refugee and migration crisis, the rise of populism, and several election cycles, all eyes are on Europe in the coming year.
Join The Magellan Society (Young Professionals of the World Affairs Council of Charlotte) in partnership with UNC Charlotte's Office of International Programs as we host Dr. Steve Sabol, Assistant Professor, Department of History, for a lecture and discussion on The Future of Europe.
Date:  Wednesday, February 1, 2017
Location: UNC Charlotte
Center City Building
320 E. 9th Street
Charlotte, NC 28202 
Time: 6:30 – 8:00 pm
Cost: FREE
Register online to confirm your attendance.
Guests Are Welcome!
You don't have to be a member of WACC or of TMS to join us for this event.