Co-sponsored together with UNC Charlotte's Office of International Programs, the Great Decisions series highlights eight of the most thought-provoking foreign policy challenges facing Americans each year. Great Decisions provides background information, current data and policy options for each issue and serves as the focal text for discussion groups.
What is Great Decisions?
Great Decisions is a national program of the Foreign Policy Association. In North Carolina, the Office of International Programs at UNC Charlotte is the state coordinator. Great Decisions is the largest non-partisan citizen education effort of its kind and has provided quality information and tools for over fifty years.
Each year, the Foreign Policy Association publishes a Great Decisions Briefing Book. The book highlights eight of the year's most significant foreign policy issues. The book provides facts, charts, and nonpartisan analysis of the "great decisions" facing the U.S. public and policy makers. Maps, online services and other resources are available to complement programs. In addition, a DVD series and Teacher's Guide are available for purchase.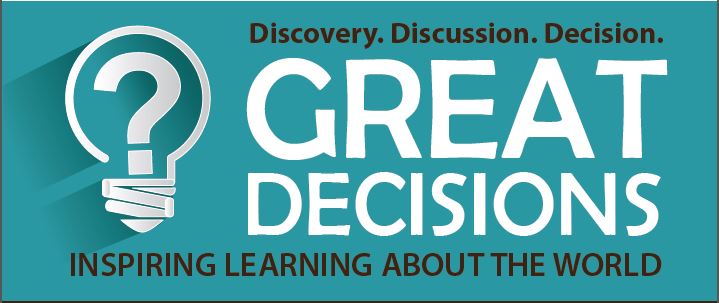 What are the eight topics for 2018?
The waning of Pax Americana?
Russia's foreign policy
China and America: the new geopolitical equation
Media and foreign policy
Turkey: a partner in crisis
U.S. global engagement and the military
South Africa's fragile democracy
Global health: progress and challenges
For registration information, please visit UNC Charlotte's Office of International Programs – Great Decisions Page