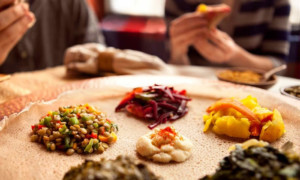 Join The Magellan Society (Young Professionals of the World Affairs Council of Charlotte) for an excursion to Queen Sheba to enjoy authentic Ethiopian cuisine and dining in the company of internationally-minded young professionals. We will learn about Ethiopian dishes and culture from the owner while enjoying a delicious family-style meal of assorted traditional dishes, including a Jebena Buna coffee ceremony!
Date:  Thursday, October 12, 2017
Location: 
Queen Sheba Restaurant
4808 Central Ave
Charlotte, NC 28205
Directions
Time: 6:30 – 8:00 pm
Cost: $22: Includes assortment of dishes, dessert, traditional coffee ceremony, and a glass of wine
Space is limited! RSVP today! 
Guests are welcome!
You don't have to be a member of WACC or of TMS to join us at events.