WorldQuest & Academic WorldQuest 2015 Information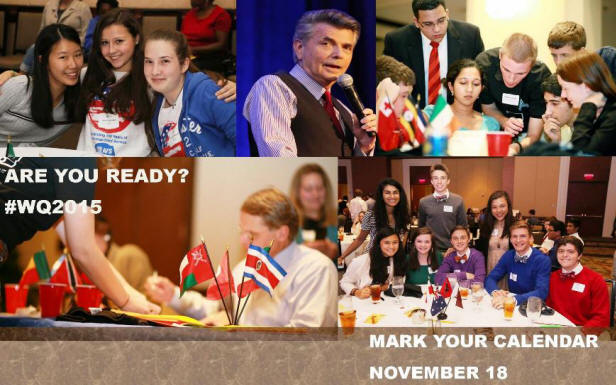 Envoy Sponsors:


Date:
Wednesday, November 18, 2015
Location:
Hilton Center City
222 E. Third St.
Charlotte, NC 28202
Time:
6:00 p.m. (Dinner)
6:45 p.m. (WorldQuest & Academic WorldQuest Begins)
Registration Info for WorldQuest:
$50 per person
$400 per WorldQuest team
WorldQuest 2015 Registration (Individual & Teams)
Click to Download the Individual Registration Form
Click to Download the Team Registration Form
2015 Academic WorldQuest Registration – $50
 (OPTIONAL REGISTRATION FEE)
The World Affairs Council of Charlotte will host WorldQuest together
with Academic WorldQuest, our high school version of WQ, for the 6th time since 2010.
WorldQuest was created by the WACC and has grown into a nationwide international knowledge competition played by councils around the country. The thrill of competition and enthusiasm for world affairs has made this program one of our most successful education initiatives in the greater Charlotte area.
Over 500 individuals and students compete in this competition
annually.
Proceeds from WQ2015 and AWQ2015 will benefit the following education outreach initiatives:
Academic WorldQuest
High school version of this international knowledge competition
Council Scholar Program
Provides grants to teachers to study abroad or participate in
international professional development opportunities
Global Ambassador Programs
Enables high school students from Mecklenburg, Union and Gaston county schools to attend WACC programs and listen to world
renowned experts discuss pertinent global issues impacting the world today
Young Explorers Essay Competition
Promotes core competencies in writing and composition (global issue topic) for middle school students in CMS
Speaker in the Classroom
Round-table discussions or classroom presentations facilitated by leading international experts for schools in the greater Charlotte area
International Career Panel
College students and young professionals listen to mid-career professionals who offer valuable advice on job entry in the fields of international business, law, non-profit (i.e. Peace Corps), government (i.e. State Department) and international education
2013 Joint WorldQuest / Academic WorldQuest from WAC Charlotte on Vimeo.
Partnerships with local higher education institutions for International Education Week and the International Speaker Series Program
How to Play?
WorldQuest: Each team of eight players is formed by businesses, government institutions, schools/colleges, non-profits or other self-determined groups. Individuals without a group will be assigned to a team by the WACC
Academic WorldQuest: Each high school in Mecklenburg, Iredell, Cabarrus, Gaston and Union County can send eight students as part of their individual teams.
How Should My Team Prepare?
The best way to prepare is to review international news coverage and our category descriptions on our website at www.worldaffairscharlotte.org
How is WorldQuest Played?
This fast-paced game is played in 7 rounds of 10 questions (for WorldQuest participants) and 8 rounds of 10 questions (for Academic WorldQuest participant) each with typically 30-seconds for every question. Some questions may require additional time. Each team collaborates to answer the questions and submits their answer sheet at the end of each round.
What Do You Win?
AWQ and WQ teams will be judged separately. Medals and trophies are awarded to the first, second and third place teams for both WQ and AWQ winners. Top teams will also have their photos taken and receive special recognition.
WorldQuest 2015 and Academic WorldQuest 2015 categories
Great Decisions 2015 (*high school AWQ)
World Flags
Cuba – Then and Now
Geography: Where in the World Are You? Capitals and Landmarks
History: Korean War
Iran Nuclear Talks
Greece Economic Crisis
International Inventors and Innovations That Changed the World
WorldQuest 2015 participants will compete in 7-rounds while Academic WorldQuest 2015 participants will compete in 8-rounds (includes Great Decisions 2015)